I'm moving right along on my book-a-month challenge! You get all the updates here. I started with a book I had already read once before that I knew I liked. This helped go through the book again and also gave me a comparison between a book and a
kindle
.
I originally said I would not give book reviews and I still plan not to, however I will give my review of the
kindle
. I sort of always wanted one, but was a little scared that I may not like it. I'm kind of
in love
with books,
like real books,
books you can smell,
books you can touch and turn the pages.
Not sure if I really was surprised since I was fascinated with e-readers, but I L.O.V.E. my kindle. Like, really love it. Let me just say that it is awesome to read.
As soon as I finished the first book recommendations for my next book popped up. I immediately downloaded
Water for Elephants
then proceeded to put my kindle down (chores were going undone with all my reading). I couldn't wait to pick it up and start reading and I loved the fact that I didn't have to go buy a new book or go to the library or any of those other old ways of acquiring a book to read. No, I had a new book in my hand as quickly as I finished reading the first. What a concept! It's incredibly light and I can hold Little C and still turn pages- I like.
I'm now finished with
Water for Elephants
and moving right along in my challenge. I'm also making progress with #1 of my
101 in 1,001
list.
Wish me luck!
I'm jetting off on a fun girls weekend with another book downloaded!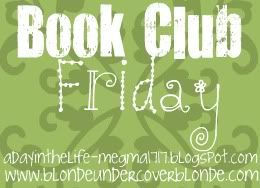 Edited to add: I found the above link up party about reading! Great way to find new books that my kindle doesn't already recommend. If you're stopping over from
Heather and Megan's Book Club
take a moment to look around and leave a comment- they make me smile!